The three components of the IT Service Management Kit, and their relationship with ITIL, are best described with the aid of a diagram: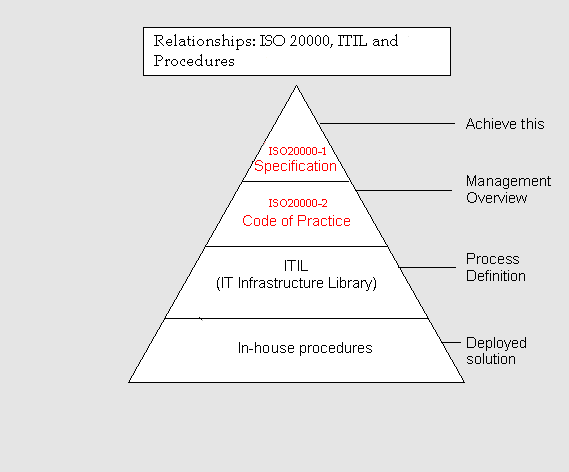 As the diagram illustrates, it addresses a variety of IT service management issues. Each componant is actually published in its own right, but as a kit the whole is very much greater than the sum of the individual parts.

The components themselves are as follows:
CODE OF PRACTICE FOR IT SERVICE MANAGEMENT
This is intended for use as a reference document for managers and staff who are responsible for running, procuring or maintaining IT service management within their organization. It was jointly produced by DISC, itSMF and CCTA. More Information
IT SERVICE MANAGEMENT SELF ASSESSMENT WORKBOOK
This impressive workbook is for any organization providing IT Service Management. It is designed to check compliance of a managed service against the recommendations of the above code of practice. The essential provisions of the Code of Practice are distilled into a simple to use set of questions with space for answers. This will build up to show your current level of compliance with the Code. More Information
BS 15000 - SPECIFICATION FOR IT SERVICE MANAGEMENT
Specifies service management processes and forms a basis for the assessment of a managed IT service. Typically, it may be used by: organizations seeking tenders for outsourced services; organizations that require a consistent approach by all service providers in a supply chain; existing providers to benchmark their IT service management; as the basis for formal certification; and so on. More Information

These components should prove to be invaluable to any organization managing an IT service professionally, as in particular, those pursuing the ITIL route.

NEW - PURCHASE ONLINE
The whole kit can now be purchased online for only: 95 UKP / 169 EUR / 149 USD. It is shipped, usually on the day of purchase, directly from the publishers (worldwide and no shipping fee!).

Buy The IT Service Management Kit

---
==> SOFTWARE DOWNLOAD AREA <==
---
Copyright © 1993-2001 BC Associates Gateway Listed